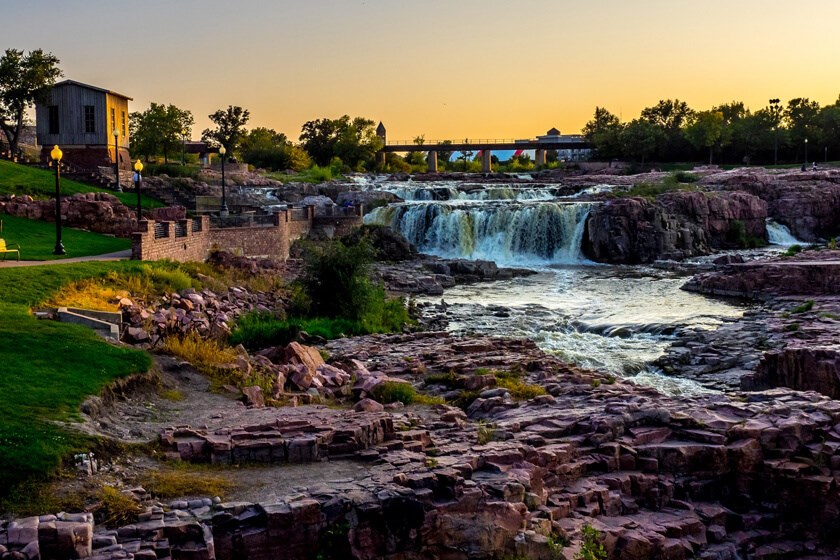 Sioux Falls is a traditional Midwestern community with the largest population in the state of South Dakota. The rich history of the city revolves around the majesty of the Big Sioux River, which cascades down the exposed Sioux quartzite bedrock in the city's Falls Park — a site which has drawn many historical figures from Lewis and Clark to John Fremont and Philander Prescott. The city was originally founded and settled in 1857 but abandoned, pillaged, and burned in 1862 due to the threat of Native American conflict. In May of 1865, the military reservation known as Fort Dakota was established in the city, spurring former residents to return and rebuild. By 1873, the city was booming with growth and bustling with residents.
Today, the city offers extensive lodging, dining, and entertainment opportunities for all who visit. We have selected a few of our staff favorites and listed them here as recommendations for you during your stay in our great city.
Hotels
We want your stay in Sioux Falls to be filled with comfort and superior customer service, so we recommend the Clubhouse Inn and Suites where you will feel relaxed but also supremely cared for in one of the hotels' 100 well-appointed guest suites. Additionally, Vance Thompson Vision highly recommends Hilton Garden Inn, Sioux Falls South, where sophisticated service is consistent with the Hilton reputation. Hilton Garden also offers complimentary shuttle service to and from Sioux Falls Regional Airport. Let us not forget the Holiday Inn Express & Suites at Empire Mall, located in the Sioux Falls shopping district where you will find dining, shopping, and entertainment opportunities galore. This hotel features upscale amenities and comforts in an affordable price range.
Restaurants
Although located in the Midwest, Sioux Falls restaurants offer delectable cuisines from all over the world. If you are anything like us and enjoy eating good food when traveling, Vance Thompson Vision highly recommends Spezia's Italian Restaurant, who serves some of our favorite authentic Italian dishes as well as steak and seafood entrees in a relaxed, family-friendly atmosphere. If Japanese food is calling your name, we adore Tokyo Japanese, where you will find the freshest sushi around, as well as traditional Japanese entrees with a modern twist. We cannot forget to mention Bracco World Café & Island Bar, a local and family-owned restaurant featuring Paradise, Asian, Creole, and American cuisine with a tiki/island spin. This Sioux Falls hotspot features an extensive lunch, dinner, and drink menu.
Attractions
Our quaint city offers a number of exciting entertainment opportunities. Of course, the first thing we recommend is to check out the waterfalls. The city's namesake, Sioux Falls, is gorgeous as the Big Sioux River tumbles over beautiful rock formations within Falls Park. We also recommend Washington Pavilion downtown, a multifaceted cultural and performing arts center where tourists and locals can observe, participate in, and discover the excitement of art and science. Don't forget a walk through the Great Plains Zoo, the 45-acre park featuring over 1000 animals and 137 species, and includes an on-campus museum. Last but not least, Vance Thompson Vision suggests a tour of SculptureWalk, a collection of outdoor sculpture exhibits available for observation year round.